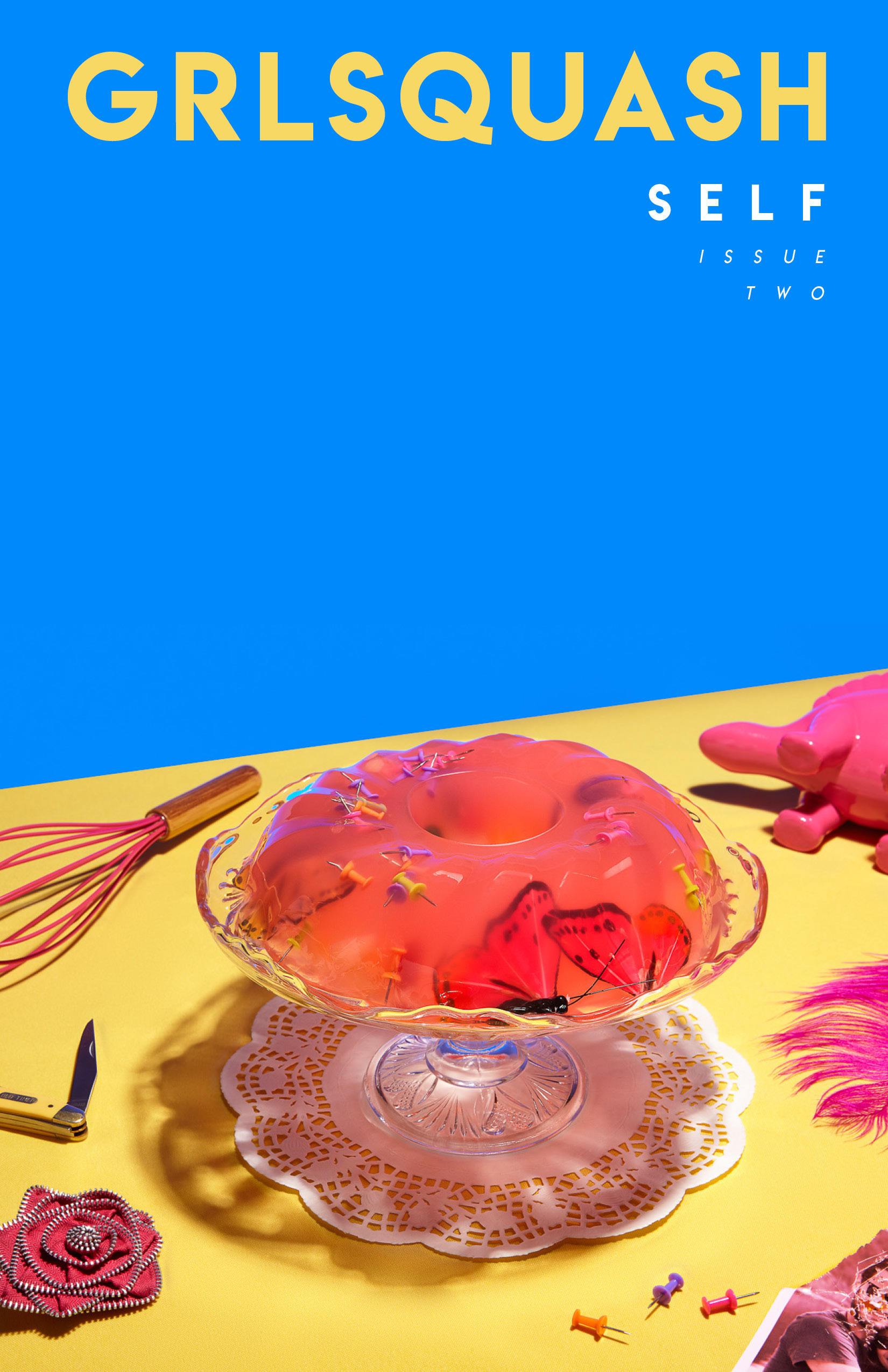 ISSUE TWO
GRLSQUASH, ISSUE TWO: SELF
WINTER 2018
The SELF issue is about embracing our struggles as much as it is about celebrating our triumphs. It's about body, mind, and spirit. It's about nourishing yourself as best you can. It's an exploration of trauma and sadness and the luscious, magical fruit that can grow from the seeds of pain. It will ground you in the reality of your own experiences as you absorb those of the womxn represented within these pages. Relationships with food and nourishment are so deeply rooted in ideals of beauty and image – this issue is a meditation on the disconnects and overlaps therein.
5.5'" x 8.5" / 120 pages / full color
10% of the proceeds from Issue Two sales will go directly to Boston Area Rape Crisis Center (BARCC), our current non-profit partner. BARCC is dedicated to providing free, confidential support and services to survivors of sexual violence ages 12 and up and their families and friends. They work with survivors of all genders, from the immediate time of crisis to years later. You can reach their hotline by phone 24-7 at 800-841-8371 or web chat 9:00 a.m.–11:00 p.m. every day.
ISSUE TWO CONTRIBUTORS: AJ ROMBACH, ALEXANDRA JANE WILLIAMS, ALLY SCHMALING, ANABETH BOSTRUP, ANGELA JANKOVIC, ANNA STABLER, ANNEKA BJÖRKESON, ANU ADEBARA, ASHA M. DIRSHE, ASHLYN FRASSINELLI, BEATRIX BASU, BECKY DONNER, CATHERINE PIKULA, CARLA SEET, CRYSTAL BI WEGNER, DAHLIA SNAIDERMAN, DANIE DRANKWALTER, DORA STONE, ELENA TINSCHERT, ELLE DIOGUARDI, EMILY ABRAMSON, EVEREST STRAYER-WONG, HANA WARD, HANNAH SPIEGELMAN, HEAMI LEE, INDIA K, IRINA GROUSHEVAIA, JEN EPERVARY, JENNA TESSLER, JESS GRAHAM, JORDAN MCDOWELL, KAT GIORDANO, KATIE O'BRIEN, KAYLA E. MOORE, KIM PHILLIPS, KRISTA LABELLA, LANE TURNER, LAUREL GREENFIELD, LEE PRICE, LILLY TAING, LINNI KRAL, LIZ BOLDUC, MAGGIE WILKINSON, MALLORY SALVAGGIO, MICHELLE AJODAH, NANCY PAPPAS, NINA GALLANT, OLIVIA MARIA, RACHEL CHRISTOPOULOS, RACHEL DESIMONE, RHADIA HURSEY, RHYS NIESEN, RISA MICKENBERG, SAM DOLPH, SARAH BEREZA, SARAH FRIEDMAN, SIOBHAN BEASLEY, SONIC YONIX, TAMI HARDEMAN, WE, CEREMONY, AND WHITNEY OTT.
sold out